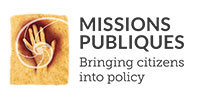 Missions Publiques is an agency specialized in citizen participation based in Paris, Bonn and Brussels. Since 1998, we have initiated or organized over 1,250 citizen dialogues in 125 countries.
We bring citizens and stakeholders, into policy at all levels, and invent new models of shared governance for better decisions today and tomorrow.
Missions Publiques' website here.