CITIZENS DELIBERATIONS FOR BETTER DECISIONS
Become a partner and you will be part of an ecosystem of stakeholders who will shape the Internet of tomorrow, together with the citizens. You will be part of the process and define the topics deemed crucial to this Citizens' Dialogue. Your participation will produce elements to fuel your strategy, drawing on unique insights from citizens from across the world. To ensure the quality of the dialogues, we are welcoming a diversity of partners.
Citizens' Dialogues provide quantitative and deliberative data reports on a local, national and international level.
They articulate the needs and visions of citizens on different levels, and provide new, smart insights. They provide added value for all stakeholders as they are based on the life experiences and knowledge of the citizens, and give a deeper and argumentative understanding of the desirable future of the Internet.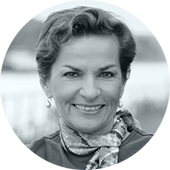 "We were delighted to add the voice of the citizens to the climate negotiations."
– Christiana Figueres, Executive Secretary of the UNFCCC about the World Wide Views summit on Climate & Energy 2015, co-coordinated by Missions Publiques

Ensure quality of process.
Lead coalition.
Support national coordinators.
Lead global Impact strategy.

Strategic partners + networks
Define global orientations of debate.
Co-fund debate infrastructure.

Implement dialogue at national level.
Lead impact strategy at national level.

Give independent feedback on process and contents.
Overview evaluation.
Support results analysis.
Engage with results.
Do you want to join the deliberations?
ECOSYSTEM BUILDING
Creating the group of strategic partners who will frame the dialogues and prepare the impact strategy.
DIALOGUE DESIGN
Scoping for key topics, fixing timeline, designing multilingual information material for the citizens.
ONBOARDING THE ECOSYSTEM
Recruiting and training local and regional partners, and empowering them to implement the dialogue.
FACE-TO-FACE PARTICIPATION
Thousands of randomly selected, ordinary citizens meet in groups of 50 to 200 in hundreds of places across the world.
ONLINE PARTICIPATION
Opening the consultation online to reach tens of thousands of citizens worldwide.
OFF DEBATES
Producing and distributing all materials for the organization of decentralized bottom-up debates.
RESULTS
Analysing answers and how they contribute to the multi-stakeholder dialogue.
DISSEMINATION
Producing action toolkits for stakeholders to present and discuss results all over the world.
SUSTAINABILITY
Evaluating the process and preparing the next round. Making citizens' participation part of the system of governance.
Testing of the validity of the approach
Nov.
---
Launch at IGF 2018 and Paris Peace Forum

Building of the strategic partners' coalition and finalizing the design of the full scale dialogue
Jan.-June
---
Design of the 2019 Workshops
Jun.-Sep.
---
Preparation of protocol and information materials
Oct.
---
Citizens' Workshops

5 countries
Oct.-Nov.
---
Analysis of results
Nov.
---
Presentation of Workshop' results at IGF 2019

Deploying the full scale dialogue and anchoring the process in the multistakeholder process
Jan.-May.
---
Deliberation Day
120+ countries
Sep.
---
Presentation of results and launch of impact activities
From Nov.
---
Impact and Evaluation
Do you want to be on board?